Back to catalogue
996 Brush for shoes with fabrics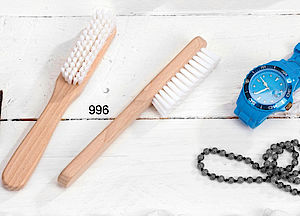 Form
wooden body with handle
Size
180 x 25 mm
Varnishing
not varnished (in stock);
clearly, brown or black varnished
(from 1,000 pieces)
Bristles
#99615: synth. bristles white, special
quality which doesn´t hook
(in stock)
MOQ
0 pieces
Prices
on demand
Instruction for use
The special quality of the brush, which does not hook into the material, makes it suitable for cleaning textiles and synthetic materials. First of all, it is recommended that you brush vigorously to remove the obvious surface dirt. If the shoe is very dirty, it can also be brushed under running water. For fine cleaning, the brush is used to rub the corresponding protective cleaning agent (foam, shampoo…) into the shoe; this also frees dirt from the pores. Now let the shoe dry before impregnating it.
The brush can be cleaned with water and soap if necessary!.
Suitable for: textiles, synthetic materials, combinations.