Back to catalogue
600 Abrasive rubber gum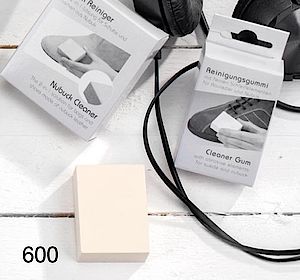 | | |
| --- | --- |
| Size | 50 x 40 x 20 mm |
| MOQ | 0 pieces |
| Prices | on demand |
Instruction for use
Spots and dirt rings (suede and nubuck leather or textiles):
For spots and dirt rings one should repeatedly and forcefully rub the place in question with a corner or edge of the stain eraser. The abrasive elements solve the dirt and the rubber absorbs it. The rubbed off material is then best removed with a brush.
Bare places (suede and nubuck leather):
Suede or velour leather becomes bare in places where it is worn thin. In order to give the leather back its roughness, one can rub over the bare places with the surface of the stain eraser until they no longer differ from the surrounding.
Suitable for: Suede leather, Buckskin leather, Nubuck leather, Velour leather, Textiles