Back to catalogue
345 Dauber brush of plastic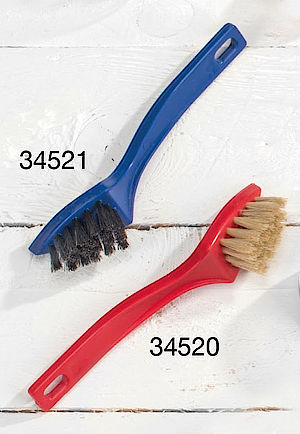 Form
dauber brush of plastic with handle
Size
160 x 30 mm
Color
assorted colors (in stock);
black, blue, red (from 1,000 pieces);
other colors (from 3,000 pieces)
Bristles
#34520: pure bristles white
(in stock)
#34521: pure bristles black
(in stock)
#34517: synth. bristles ivory
(from1,000 pieces)
#34518: synth. bristles black
(from 1,000 pieces)
MOQ
0 pieces
Prices
on demand
Instruction for use
First, the cream brush is moistened with shoe polish. Then the brush is applied to the shoe with circular movements, thereby massaging the polish into the leather. The shoe polish is applied thinly and uniformly to the leather. Because of the flexibility of the bristles, the brush introduces the polish into all seams, grooves and ornaments. After having applied the polish, it is left for a few minutes to penetrate and to dry, after which the shoe is polished with the polishing brush.
Advantages of dauber brushes with synthetic bristles
Brushes with synthetic bristles are more economically priced due to the more inexpensive material and manufacturing costs. In addition, the synthetic bristles last longer, and the brushes don't "lose their hair".
Advantages of dauber brushes with natural bristles
The natural bristles, which consist of pig bristles, absorb - similar to horsehair – shoe cream and then give it off again to the leather. The shoe cream can penetrate into the leather pores well, but sprinkle a little bit because of the stiffness of the bristles.
Suitable for: Smooth leather.