Back to catalogue
132 Polishing brush, straight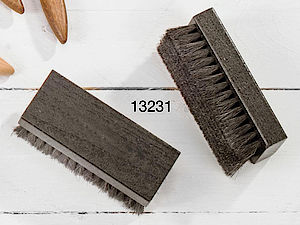 Form
wooden body straight
Size
117 x 49 x 19 mm
Varnishing
H01 not varnished
H02 clearly varnished
H03 brown varnished
H04 black varnished
Bristles
#13217 synth. bristles ivory
#13218 synth. bristles black
#13220 pure bristles white
#13221 pure bristles black
#13230 horsehair silver/grey
#13231 horsehair black
#13232 horsehair brown/mixed
MOQ
1,000 pieces
Prices
on demand
Instruction for use
First, apply the shoe polish thinly and evenly onto the leather. Let the cream be absorbed by the shoe and dry for a few minutes and then polish the shoe with the polishing brush. The heat that is produced on the leather surface by polishing gives the shoe polish an ideal consistency, so that it can penetrate into the finer leather pores, creating a fine protective film. A smooth surface is created, which protects the shoe from dirt and gives the leather a special shine.
Advantages of polishing brushes with synthetic bristles
Brushes with synthetic bristles are more economically priced due to the more inexpensive material and manufacturing costs. In addition, the synthetic bristles last longer, and the brushes don't "lose their hair".
Advantages of polishing brushes with horsehair
Brushes with horsehair are the most effective ones, in terms of their polishing effect. Due to its natural characteristics, the hair has a rough surface, which creates heat. This makes the shoe polish more liquid, it can penetrate into the leather pores better, the leather surface becomes smoother and the shoe shines. The different thicknesses of the hairs also produce an ideal polishing and cleaning effect. The thicker hairs are harder and remove dirt better (also in the seams and grooves), whereas the thinner hairs are softer and polish better. Due to the different hair diameters, the horsehair brush polishes every smooth leather shoe optimally. In addition, the horsehair stands out due to its elegant appearance.
Advantages of polishing brushes with natural bristles
The natural bristles, which consist of pig bristles, are similar to horsehair in terms of efficiency. The diameter at the root of the bristle (shaft) is very different from that at the end of the bristle (flag). When they are processed, the bristles are folded in the middle and the thick shafts and the thin flags are next to each other in the brush. The thicker shafts remove dirt, whereas the thinner flags do the polishing. However, these brushes do not contain the mixture of bristles with different diameters that is necessary to achieve an optimum polishing effect.
Suitable for: Smooth leather.